A private dining experience in the Arras Wine Cellar
This magical oasis houses hundreds of bottles of wine curated by Bargello's award-winning Sommelier, Emily Dunaway. The artfully designed space provides an exquisite dining atmosphere for up to 10 guests. Personalized five, seven, or eleven-course tasting menus are created by Executive Chef Jordan Arace, providing you and your guests with the ultimate dining experience. If you wish to expand your gathering, up to 20 people can unite for an intimate reception, with curated pairings of hors d'oeuvres and wines.
Contact Bargello to reserve space.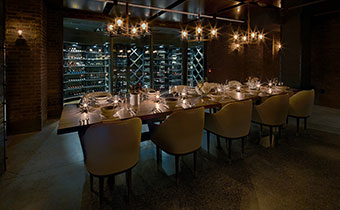 Wine Cellar
Seating up to 10 of your friends, family or colleagues, our Wine Cellar is an intimate enclave to clink glasses, dine luxuriously and revel happily.